Wednesday, June 29th, 2005
---
11:27 pm
- au revoir
alright, so this username has seen it's last entry. i've hated "punkystar" for a few years now, and tonight i decided to change over to
everymarble. everything looks the same, and i'll be updating in the manner to which i am accustomed.

please head that way (again, that's
everymarble) and re-add, if you so desire. if you don't, you're out of the will.

end transmission.

current mood:
accomplished
Thursday, June 23rd, 2005
---
9:59 pm
- mother of god!!!!
i hate camp war eagle. it's worse this year than it's ever been. everywhere i turn, there they are! they ran me off of cater porch this morning and they busted in on my lit class this afternoon. plus the moms and dads are here too, walking around all stupefied. imagine your daily routine suddenly involving a hoard of SMUG HIGH SCHOOLERS who have been given permission to ruin your day without repercussion!!!
just now there were about 10 groups of them sitting outside the library loudly practicing songs for a talent show, i guess?

ridiculous. camp war eagle = learning to make enemies



i hate you.
i hate you.
i hate you.
i hate you.
i hate you.
i hate you.
i hate you.
i wish you were being hazed.


ps. i'm not really in as lousy a mood as it may seem. this vaio desktop keyboard in the draughon internet cafe is workin' me, though. that's not the A, IT'S THE CAPS LOCK.
pss. i LOVE the idea that liam gallagher thought spinal tap was a real band. and that his brother told the press about it!

current mood:
cynical
Wednesday, June 15th, 2005
---
9:09 pm
- whoo-boy!
i'm breaking my vow of silence to say this very important thing:

christian bale is so hot, my panties caught fire.


carry on.

current mood:
excited
Tuesday, May 31st, 2005
---
8:37 pm
- my kingdom for a doughnut.


free doughnut?! awesome. in my opinion, this is a way better idea than a free scoop of ice cream. its a shame that the nearest krispy kreme is 45 minutes away. put on a fake moustache or pretend you're your own twin and get another one for me.



p.s. what krispy kremes have espresso drinks?!?! not the one that i have to schlep to! that's the best idea anyone's had in the history of ideas.

current mood:
busy
Thursday, May 26th, 2005
---
12:35 am
- i might cry.
i'm so mad. the lost finale was a cliffhanger-splosion. nothing was resolved. seriously, what is jj abrams' deal with presenting a million new questions and answering only one old one?
that dude hates us, for sure.
Tuesday, May 24th, 2005
---
7:02 am
- fu-un
i rode down to orlando this past weekend.

-we ran over a bolt on the way there; it punctured lindsay's tire, which then had to be replaced.
-we watched cinderellabration, and it was predictably terrible.
-we saw lucky the dinosaur, a free-roaming audio-animatronic figure, and it was predictably freakin' awesome.
-we rode soarin' and ate at the new sunshine seasons airport foodcourt.
-we saw three otters running in a grassy area next to a busy road through wdw.
-we saw a very convincing anakin skywalker face character at the studios (star wars weekends, only slightly less nerdly than dragon*con) and stood mesmerized by him for many minutes.
-we sped past a zebra in a cow field somewhere in north florida.


then i got home and read a myspace comment from kyle that ruined a big surprise from last week's lost which sat, yet unwatched, in my VCR. :( then i watched it and bawled like an infant when the raft launched and good-dog vincent swam after it. holy shit.
Thursday, May 5th, 2005
---
2:27 pm
- fuuuuuuuuck
there was almost a gruesome VCR death last night.
for reasons unknown, my VCR has been spitting the tape out periodically all week. so last night when i left for dinner at around 6:30, i made sure the tape was in for Lost at 7:00. when we got back, it was spit out. i pushed it in and turned it on, already fuming, and saw... the end of gilmore girls. AH! what! the! frick! i hate you. i hate you. i hate you. why are you such a jerk, VCR?! there's no reason for this except that you're just lazy! i hate you.

i resisted the urge to toss the bitch off the second floor of my apt. building, but just barely.
so began my belated foray into torrents.

*UPDATE*: gah! look at these user reviews!!! i've never seen any that were so bad.

current mood:
annoyed
Monday, May 2nd, 2005
---
1:23 am
- kibble
my mom works at the regional airport in my hometown, inside at the counter and outside on the ramp. the runway is downwind from a dogfood factory.
she says that when new people start working there, they always have the following conversation:

new person: what's that smell? it smells good.
veteran: dogfood.
new person: really?
veteran: yes. dogfood.
new person: ....it's making me hungry.

ha ha. gross.
Sunday, May 1st, 2005
---
7:49 pm
- immediacy!
Saturday, April 30th, 2005
---
2:23 am
- URL ABCs
Monday, April 25th, 2005
---
11:56 pm
- soon i'll clean up, too!
i picked wildflowers and cooked quite an extensive dinner tonight.
my procrastination knows no bounds.

mondays suck.
i like thursdays and saturdays. though i don't especially like them, i feel like i live for tuesdays. everything's always due then and three of my favorite shows are on.


watch.


p.s. sex music next door.

current mood:
distressed
Saturday, April 23rd, 2005
---
2:05 pm
- AW!
this is the cutest stupid thing i've ever seen:


that's a metal detector at Denver International Airport.
those penguins were a threat to national security. AW!
there's a slideshow, too!
current mood:
hungry
Monday, April 18th, 2005
---
10:48 pm
i've only been watching since the beginning of this season, but fox totally ruined 24 for me tonight. the episode centered around why the patriot act is SO GREAT and how groups like amnesty international and human rights watch are "slimy". great. pronounce it "nucular" some more, too, jack bauer. rupert murdoch is the devil.
Thursday, April 7th, 2005
---
5:54 pm
- hairdew
so, as i mentioned, it's been raining for two days straight. as a result, my hair is extra LIONY lately.
it's quite sexy, but it's also quite up in my grill and maybe looks weird if i haven't been near a mirror in a few hours.
you're just going to have to trust me, because that doesn't sound very sexy at all.

no wait! i forgot cheetara.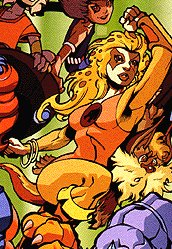 there. sexy.

current mood:
relaxed
Wednesday, April 6th, 2005
---
11:56 pm
- hey, yooou!
i louvre storms, and it's been storming all night. alright!
here are a few pictures from last wednesday when i went to hilarious karaoke night at hilarious lanhucks in evansville with some friends from home. it was storming then, too.

Wednesday, March 23rd, 2005
---
10:45 pm
oh, man. my new favorite thing to hate is commercials (or ads in general) for ringtones.
i already feel bad enough for sir mix-a-lot. now i've gotta imagine that he's so down-and-out that he's got to pimp his services to your phone?

also, if i ever hear the "crazy frog" ringtone in real life, there might be violence.


current mood:
annoyed
Wednesday, March 16th, 2005
---
9:49 am
- reminder

dear dudes,

tonight is the Jay Sanders Film Festival/Movie Gallery Student Video Competition... otherwise known as "free candy, free soda, and free bags of movie crap, oh and also some short films".

get there pretty early if you want a seat.

love,
erin



current mood:
groggy
Monday, March 14th, 2005
---
12:51 am
- amusing
- GOOD NEWS! the outrageously long Lost hiatus has been cut down to just 4 weeks instead of 6! that means there will be a new episode on march 30th. HOORAY!

- i always hope, when i watch Iron Chef: America, that Alton Brown will say something honest like "pureed scallop ice cream? that sounds gross."

- truth in advertising: this afternoon i was paying inside at a gas station and there were 5 or 6 soccer-y, nondescript european guys in line ahead of me. buying mentos.


current mood:
relieved
Tuesday, March 8th, 2005
---
4:45 pm
- a prediction.
jim breuer is not funny.
if mitch hedberg goes on first (pleasepleasepleasepleaseplease) i'm leaving after his set is over. cause jim breuer is not funny.

ha ha! your impression of a goat is still not hilarious. is that the joke?

*UPDATE* - he totally did that fucking goat shit.

current mood:
disappointed
Friday, March 4th, 2005
---
12:01 am
- sigh
i don't have much to say, but i wanted to post this picture.

it's downtown disney westside, wet and empty. last saturday we were there way late doing bar-closing chores for free shots at bongo's (feel the rhythm of the music getting stron-ger.) and fake salsa-ing to and fro the WC. by the time our party left, every person on earth was gone except a lonely disney security guy who seemed happy to see us because it meant he had something to do (if only to tell we whippersnappers to get off his lawn...).



here's also a picture of chris and brian (bryan?) dancing (in lieu of girls, though lotharios they be) with eachother. or chris may have been dancing with me, unbeknownced.


welcome spring breakers!
current mood:
nostalgic
Tuesday, February 22nd, 2005
---
2:02 am - is it wrong of me to expose his, ahem... shortcomings?
my neighbor had a lady friend over on saturday.

a loud lady friend. loud and drrrty. the volume on my tv was pretty high, but i couldn't drown out the thumping and (unconvincing) screaming and dirty talk.

but as far as i could ascertain, the lady did not, um... sail to shore.

these paper-thin walls have betrayed you, pimp.

*UPDATE* - Holy. Shit. he's at it again. at 2:30 in the afternoon.
Monday, February 7th, 2005
---
5:41 pm
- haaaaappy biiiiiirthday.
it's been a long time since i've heard:

happy birthday to you,
you live in a zoo.
you look like a monkey,
and you smell like one, too.

interestingly, i've heard it alot today.
jungian, dudes.


current mood:
optimistic
Friday, February 4th, 2005
---
12:34 pm
- you're only $1.6 million away from owning a nightmare
Monday, January 31st, 2005
---
4:28 pm
i'm sick. sneeze, sneeze, sneeze.

last night i saw an episode of boy meets world that i hadn't ever seen before (whaa!?). it was about shawn joining a cult called "the centre", and it was, perhaps, the worst slice of tv i've ever had.



stacked. super campus rep.



ps. i hadn't written in a while because i was moving. am moving. continue to move.

current mood:
sick
Wednesday, January 12th, 2005
---
9:35 am
- When in Rome...
last Monday I was in New Orleans for the first time. here's some advice for the next time you find yourself in New Orleans: when they say "live love acts. no cover." they mean "ugly strippers that don't even get naked. one absurdly expensive drink minimum."

also, when they say "voodoo spiritual temple", you should definitely go. cause it's super creepola. you have to be escorted back.

current mood:
blah
Wednesday, December 29th, 2004
---
1:04 am
- i was thinking, while i was driving...
the holidays did not fail to disappoint. i didn't really know what my plans were, as they were dictated by my parents, mr. and mrs. lastminute mcgee, so i couldn't even make the best use of the time i did have. the most eventful part of my holiday break was being in evansville for, like, 8 seconds. i had an english muffin with Feng Shui of the Heart, charm squad captain kyle starks took me to lunch at biaggi's (with the over-enthusiastic waitstaff), i had lackluster-indian-buffet-but-good-company lunch with heather c., and i didn't really have to do anything i didn't want to do. i wish i'd had more time, because i didn't get to see sam, ryan, or kim and i really wanted to. :(



driving.
Monday, December 27th, 2004
---
12:44 am
- an official pain in my ass
my computer is, yet once more, on the brink of death. this time i will be seeking out a professional SONY GUY to do the repairwork, as the schmoes who've "fixed" it the last couple times clearly did not actually fix it.
it's a temperamental baby, for sure. doesn't like to go on trips or be handled much at all. the holiday season is difficult for us.



here's a present from me to you:


which is, actually, just an hilarious scene
of someone else's scary present being transported
from hell to their front door.



current mood: sneezy
Thursday, December 2nd, 2004
---
9:58 pm
- WHAT THE FUCK!?!?!
Tuesday, November 16th, 2004
---
5:31 pm
celebrate


when auburn wins a football game, the entire contents of the stadium hop to their feet and walk about a mile to an old tree downtown, where they make short work of all loitering, littering, public drunkenness, and indecency laws.
current mood:
cold
Wednesday, November 10th, 2004
---
11:47 pm
- disney world made me feel better.


the first is a picture of both my new phone and my new hat, and the second is a picture of my mom putting her feet in a fountain at epcot last weekend. it occurs to me just now, though, that putting her feet in that particular fountain may have been culturally terrible, as it is the fountain at the morocco pavilion and i think muslims have a thing about feet. uh... oops. good thing it's only fake morocco.

ps. caroline made cheesy sausage balls today.
pps. redesign immanent.

current mood:
mellow